TUBES!! And Tube Design
(v4.04)
BEAR Labs offers a wide range of custom work in tubes and tube designs.
Many specially designed and built tube amps, preamps & phono stages have been
designed and custom built.
Expert modification and upgrades to both commercial and privately built tube gear is a specialty.
BEAR Labs DOES EXPERT REPAIR on TUBE GEAR!!
Please check the PROJECT SHOWCASE pages to see many examples.
BEAR Labs knows tubes!
By tubes I mean: 300B, 2A3, 6A3, 6B4, 6LF6, 6SN7, 12AX7, EL34, 6L6, 6550, KT-66,77,88, 211,
845, 813, 833, WE416, WE417a, TL1000, 4CX250, 3-500, WE-205, you name it!
Here is just one example of some custom tube work done here. It's the front end and output
stage modules for a 150w zero feedback power amp.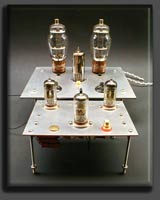 BEAR Labs can do almost everything and anything you need done in both solid state and vacuum
tubes. This includes repair, upgrade, restorations and modifications. In the past this has included
all manner of gear including, off the top of my head: Jadis, CAT, ARC, HK, Dyna, Acro, McIntosh,
Moscode, Fischer, Scott, VTL, Eico, and a whole lot more... BEAR Labs knows SE, DHT, P-P.
Please Email BEAR LABS directly with your needs or questions!